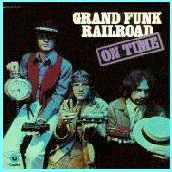 Important Message follows:
GRAND FUNK RAILROAD
is divided into two separate groups:
(NEW) GRANDFUNK RAILROAD and
MARKFARNERS N'rG BAND
This is a fan-based, non-commercial, amateur website
dedicated to Grand Funk and their fans all over the world.
Welcome!
JimmyK, webmaster
GRAND FUNK began by getting their accolades without benefit of any recordings. They started their careers by playing at several rock festivals - before any records were available! GRAND FUNK had not had any large build-up before they played live. They were not ex-members of broken-up supergroups - they were just a garage band from Flint, Michigan. They played louder, harder and for the audiences. They became the peoples band - but the media was not impressed - in fact they did all they could to miscredit GRAND FUNK.
This is the ETERNAL Independent GFR site.
Hey Jimmy - all of us GFR fans want to thank you from the bottom of our
hearts for putting this tremendous compilation of everything imaginable
about Grand Funk together for all of us to look at and remember one of
the greatest bands ever to play on this earth, who really never got their
due except from people like yourself, thanks again Jimmy.
- Yes, I grew up with them in my back yard!
Randy from Flint Michigan