GRAND FUNK RAILROAD (or)
"This train is bound for Glory,
this train..."
Grand Funk Railroad?
Were they writing and singing about Grand Funk Railroad?
Not necessarily so, but suddenly the sentiment doesn't
seem so wrong - right?
Grand Funk RaiLroad has emerged as the most popular
American-bred rock trio in contemporary music history, with
sales statistics among the most spectacular in the entire
record industry.
Ask the man from Capitol Records, the guy with the
broad grin, about their four million-selling Gold Albums
achieved within a four month span by a group barely beyond
celebrating its first birthday.
Their latest LP, "Live ALbum", released in mid-November,
is typical of the world-wide acceptance presently being enjoy-
ed by Mark Farner, Don Brewer and Mel Schacher.
Based on pre-orders of more than one million albums,
(the largest initial order for any one Capitol album since
the Beatles) this double-disk LP was certified solid Gold
on the day it was released.
And it all continues despite a coven of rock-music
critics who regularly and religiously seem to delight in
trying to find new ways to implore readers that: (a) it
isn't happening. (b) it shouldn't be happening, and;
(c) it may be happening but isn't really because after
all...", etc., etc., etc.
"We're underdogs with the press but the people
are with us all the way," says Terry Knight with a
casual shrug. He's Grand Funk's Manager and Producer.
"The people are all that matter to us" - period!
There's a response from the people who see our shows
and buy our records that the critics reject. We can't
explain it and we aren't even going to try. We'll leave
that to the so-called critics. We know it happens and,
frankly, we couldn't care less what the critics think
or say.
Tired of feeding the abuse, however, Grand Funk
Railroad recently enacted a counter-measure, one of
few indications they. are aware of the critical commentary.
The result - no more press interviews.
Writers, hereafter, are on their own when it comes
to trying to explain one of the most apparent musical
and sociological phenomenons of this decade.
Grand Funk Railroad carries on exclusively for
the believers, such as the 10,000-plus who filled every
available seat for the concert appearance in Anaheim,
California, one of the Flint, Michigan, group's rare
West coast visits. It was the standard SRO show
with every ticket gone weeks before the first printed
advertisement appeared to announce their arrival (the
appearance had been announced at a concert earlier in
L.A. and that was enough to swamp the ticket offices).
So, gloriously, Grand Funk Railroad continues,
with new tracks now being laid which will take the trio
on their first world-tour in early 1971.
On the tour itinerary are Honolulu, Sidney,
Melbourne, Aukland, Tokyo, Hiroshima, Nagasaki,
Zurich, Munich, Paris, Frankfurt, Manchester, Liverpool
and London with additional stops being negotiated.
So next time someone questions you on the merits
of Grand Funk, simply smile and ask in return,
"Is that any way to run a Railroad?"
CAPITOL RECORDS NEWSLETTER 1971

DATE: NOVEMBER 23 1970
TO: DISTRIBUTION
FR0M: TERRY KNIGHT
OFFICE: NEW YORK EXEC.

SUBJECT: SPECIAL SECURITY/GRAND FUNK RAILROAD CONCERT(S)

Due to the necessity o special security
precautions which are being taken to insure the safety of the members of Grand Funk Railroad and the entire production staff of the show, the Security division of Madison Square Garden has requested our fullest cooperation.
Therefore, I must ask the cooperation of all depart-
ments, includinq Executives and Department Heads, in observing the following:
In order for the Security division to operate
at its maximum potential in restraininq fans
from the immediate stage area, NO ONE will be
permitted entrance to the back-staqe or
dressing room area prior, durinq or after the
performance of Grand Funk Railroad regardless
of his or her importance to Capitol Records
or its associates. This will, of course,
also extend to members of the Press, Radio
and Television.
The abovementioned restriction will be in effect during both the December 11 and December 18 performances.
Thank you.
TK/im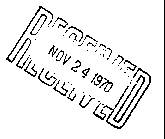 DISTRIBUTION:
NEW YORK/ALL DEPARTMENTS
HOLLYWOOD/ALL DEPARTMENTS
HOWARD STEIN
PREMIER TALENT ASSOCIATES
LITROV/LEVINSON
BELDOCK & KUSHNICK, ESQS.
MADISON SQUARE GARDEN