MARK FARNER
UNRELEASED SONGS
by RICK CAPPETTO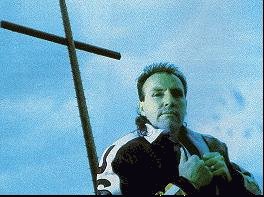 I received Mark's Christian Contemporary Music (CCM) Demo a few years ago from a great Friend, Brother Kelly, and Have enjoy it allot ever since. It was recorded sometime before 1988. It is something that the few of us who have been very careful to not let get out to bootleggers. I was hopeing Mark would release these songs, even as demo version, on an upcoming project.

On some of the songs Mark plays the Guitar, Bass, Keyboards, and sings lead and back ground vocals. He uses a drum machine for the Drums on some of them. Some of the songs we all know because they were included on Marks first Christian Rock Album called, Just Another Injustice.

The songs we know are COME TO JESUS; ISN'T It AMAZING; and JUDGEMENT DAY BLUES. Each is fairly similar to the album version, except Isn't it amazing which has saxophone in it, And Mark does not give the Vocals his all, like he does on the final released version, which is probably Mark Farner's Best sang song ever. Also Mark improves the Guitar lick on JDB and speeds it up a little bit. Mark has been and is a Great Singer, but he really peaked in his CCM days, he was
wonderful on vocals then. And HE is still Great today.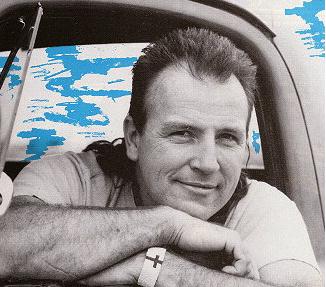 The unreleased songs:

Doin It right; Mark use to play this at some of his shows back in 85-87.
This is an up tempo song. Has nice strumming chord play and a cool chorus. "Fight that fight with al of you might, and He will let you now when you Doin it, Doin It right." This song sounds like it would fit right in on the Wake Up Album, Mark's second CCM Album. It is the same tone as the songs on that album, especially New Age and Into the Light.

Glory Bound; This is a softer song, but up tempo. Nice vocals like every song Mark has ever done. It has a funky Keyboard in it, that reminds me of the GFR songs from the 80s reunion period. This song as a bit of a Gospel Feel and is very Bible inspired, and is about the belief that Christen's are going to Heaven after this life.

On Dear Jesus; Has an Acoustic Guitar Sound, is slower tempo and of course the Vocals are great, its is a very pretty ballad type song. The song
is basically a prayer, The song has a cool and nice chorus, "is that you calling me again, You know I will be right hear my friend...For will we have another day to show folks your the only way. That's what I though I heard him say, Oh Lord." I think it could have been a CCM Hit.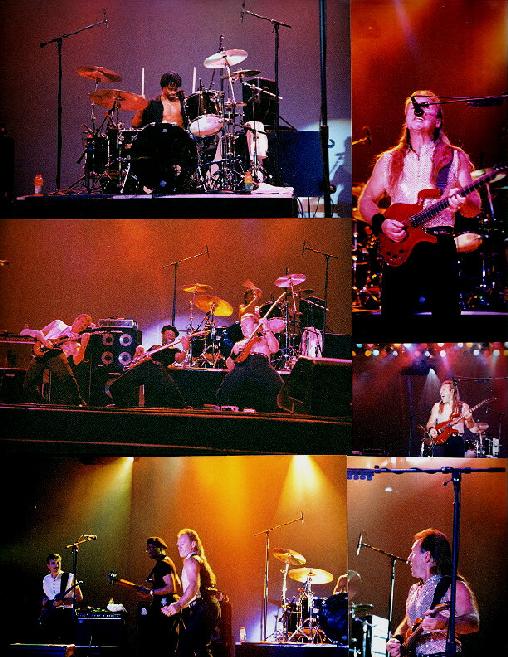 Mark Farner in Las Vegas 1999 Photo: Rick Cappetto
I Bind You; is another song Mark played in his pre 88 days, it is a very
good song and I was surprised it was never included on any of Marks CCM Albums), Another good catchy Chorus by Mark hear and a nice little Guitar Lick. There song is about Binding Evil (or Evil Powers) so the Christian Can Live A victorious Life. Any song that has the line "Satan is a Chump" is cool, in my book. This song too would have fit in well on Marks second CCM Album Wake up, it has the same tone and tempo as the previously mentioned songs from that album.

No False Idol; still another song Mark use to play live. This song has the
most Gospel feel of any song that Mark did in his CCM days (besides his cover of search me Lord on the Larry Howard Cornerstone Blues Jam and His Joint effort with Russ Taft, Ed Degarmo on the song Something About the Name) It also sounds a bit country influenced and is up tempo. It has a 50s piano sound in it and it has a nice Guitar Lick in a chuck Berry style. It is about only worshiping God, and not man or anything else.

Make me Whole; is a slower Ballad type song. "Its is a Beautiful Song and is a Prayer. Make me whole again dear Jesus." This song has the feel t it like Marks song from his first solo album (Mark Farner in 78) song Easy Breezes. I am pretty filmier with CCM music and I think this one could have been a hit. Mark does an excellent job on the vocals and the song just has a great felling about it.

Truly Satisfied; hear is a change in style, This is a Heavy southern Rock
Type Song, sounds like if Deep Purple went ZZTOP. This song is about what Mark use to do to enjoy himself and how he is sustained by the LORD, so he does not need those things anymore; because he is "truly satisfied." This is a driven song, and it rocks hard, if you went to the GFR reunion tour in late 98 Mark was doing an intro to Inside Looking Out That sounded similar to this song. The only thing it is missing is a lead Guitar lick. So I think it is an unfinished song. It has some nice Harmonica work in it. I wish Mark would do this song on a new album, and put a blistering lick in it, cause it is a great song. Maybe change the lyrics and make it a cross over song so he does not get boxed in as a CCM performer again. CCM music has a limited audience. That's it for the Demo the other songs are from other sources.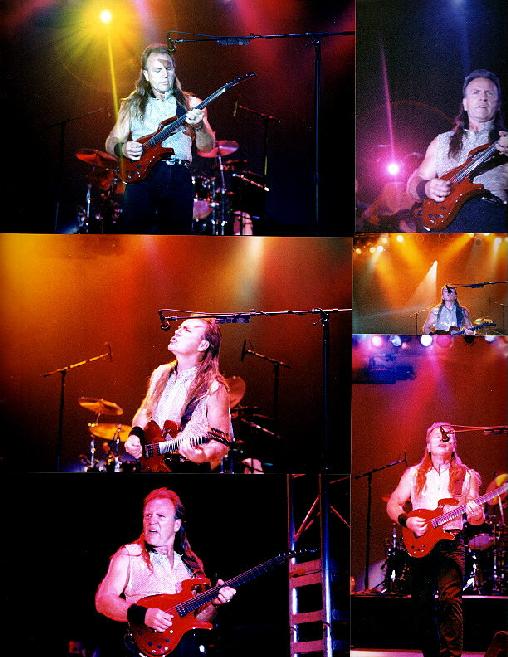 Mark Farner in Las Vegas 1999 Photo: Rick Cappetto
Let It Happen; is a GFR B. Side from the What's Funk Album (released only in Japan), Mark is going to include it on the Grand Funk Lives (1881) CD which should be out soon on his label. It is a real nice song and is in the vain of Wait for me, another song on Lives, it is a pre CCM Christian Song for sure. I can't wait to hear a remastered version with no tape hiss.

There's Something About The Name; is an Older Gospel Song that was covered on Eddie De Garmo on his CCM Album titled Phase II. Mark Farner, Russ Taft, Phil Keaggy and Bill Gather join HIM. Bill Gather wrote the song years ago. Mark Dominated the singing by out singing the others easily. Its a nice song. This is a Worship song basically.

Hold On To The Fire is a song on ex Preta (A CCM Group) Lead Singer Greg X. Volz first solo album called The River IS Rising It is a rocking Song and Mark sings backing Vocals with Phil Keaggy. Actually The River is Rising is a very good album, it rocks. Greg X. Volz has a 4 octave voice he can get way up there.

Judgment Day Blues-Some Kind Of Wonderful (CCM Version)-Search Me Lord; were done by Mark on the Larry Howard Cornerstone Blues Jam. It was a Blues/Gospel Jam performed by CCM Artists. Mark rips on JDB, Margaret Becker a popular CCM Singer sings on Some Kind Of Wonderful With Mark and search me Lord is a cover of a Mahalla Jackson song. There is a few song tribute to her on the CD. This concert was also released on Video Tape.

On the Avenue is a cover and Mark sings on this song as Part of a Charity Drive for Muscular Dystrophy. It was sponsored by Budweiser and the MDA. Mark does an excellent Job of singing this old hit. Mark Also Plays the Rhythm Guitar on this song. Alto Reed Plays The Sax, Drew Abbot plays Lead Guitar and rhythm guitar, Michael Bradford plays the bass, on Drums is Ken Everts and on backing vocals are Ash Can Van Gogh, Mike Ridley and Al Jacquez. This tape was given to me by a friend in Calif Steve R.

And Finally Smileis another charity effort and is a DISCO song, yes GFR
don't disco But Mark will disco for charity. You have to hear this one to
believe it, but the saving grace are the parts Mark songs. Lynn Goldsmith
also sings on this one and one other person sings most of the leads which are done in a talking fashion.

Rick Funk Cappetto

WHO IS RICK FUNK CAPPETTO?


Mark Farner in Las Vegas 1999 Photo: Rick Cappetto


BACK TO GFR NEWSPAGE
BACK TO FARNER SECTION