GRAND FUNK 1971
It was independence day July 4, 1971, and at last it was a day off for 22-yearold millionaire
named Mark Farner. The day before he had led Grand Funk Railroad through a triumphant
free concert that put the trio in the history books yet again because of the huge audience
they had attracted. It was a wildly enthusiastic crowd of tens of thousands, and it was said
to be as large as the free concert that the Rolling Stones gave after Brian Jones death.
The concert was the climax of an incredibly successful European tour of eleven cities in six
countries.
Farner was relaxing. Later in the day he would probably see the other members of Grand Funk, his
pals Don Brewer and Mel Schacher. Although they are forced to spend so much time together for gigs, the three young men who have shared the Grand Funk experience remain extraordinary close friends. Farners thoughts were with the future. In five days, he and his musical colleagues would be on stage in the center of New Yorks Shea Stadium, the first time that one American group had ever headlined
there. Five years before, it had taken the Beatles 80 days to sell out the stadium.
It had taken Grand Funk only 72 hours. According to stadium police officials, "It looked like
World series fever all over again." In short, when tickets went on sale at Shea Stadium it was a
veritable riot! More than 21.000 fans showed up on Saturday morning, June 5, when the sixteen ticket
boots opened. 12.000 had spent the nigh to outside the stadium camping out in bags, tents and
blankets, in order to assure themselves seats for the concert. Licence plates, of every concieveable type of vehicle crowding the parking lot, showed that fans had come from New Jersey, Pennsylvania, Connecticut, Vermont, New Hampshire, Delaware, Maryland, Rhode Island, and Ohio.
Sid Bernstein, promoter of the concert, the same man who brought The Beatles to Shea,
affirmed. "This has broken every record we ever set with The Beatles. I would never say
that anyone is more popular than The Beatles, but, Grand Funk's fans certainly have respond-
ed more quickly and with a different kind of enthusiasm."
After the Shea Stadium concert, Farner knew that he and the group, and their 20 full
time employees would be flying straight to the Orient. There they would be the first American
group ever to appear in Tokyo's World Series Baseball Stadium, on July 17th. Then they'd
head for Osaka's baseball stadium, appearing on the 18th, with an intermediate stop in Hono-
lulu on the 13th. And after that they would rush back to Connecticut where they would
make a solo appearance in the Yale Bowl's 100,000 seat stadium.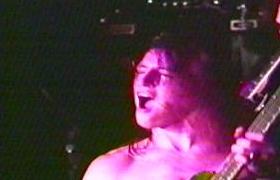 Mark Farner wasn't worried about playing these huge stadiums-after all, Grand Funk
had been born, exactly two years earlier, at the Atlanta Pop Festival before an audience of
125,000 people. So he had long since adjusted to the screaming thousands whom he could
never meet, the groupies, the encores, the ovations, and the incredible expense of energy that
goes into all of his frenzied performances. We knew that at Shea, and elsewhere, they
would scream with delight, as always, when he took off his shirt and went down on his knees.
And he knew they would yell out their favorite songs, so much at the same time that
he wouldn't be able to make out what they were requesting. And he thought, that day in London
as he dreamed about Shea and all the other bigtime concerts, of how far he and Don and Mel
had come. They had gone from rags (or something not too far removed from it) to superriches in
such a short time. From $25-a-night gigs to young millionaire status. After all, it was just two short
years since their first concert! Oddly enough, and perhaps they themselves were surprised by this,
success had changed them so little in their private lives. They still had the same friends they'd had
before, plus many new ones. They still followed the same sports, enjoyed the same foods,
dressed only a bit better than they had before. Luxuries they could do without, and mainly - they did.
Their new-found wealth, though, did cause one change in them. A very positive change.
It made them acutely aware of their fellow man. It made them conscious of what they could do,
and now have every intention of doing, to make the world a better place for all mankind.
Now they are undisputedly the Kings of The Rock Pile-and their most concerned thoughts ;
are about others. Indeed, Mark thought, what a great journey it had been in such a short time.
He said in an interview once: "It's like all I the hard times we've had in the past were worthwhile
finally. There was a time not long ago when I thought that life was a bummer."
Just a little over two years ago, it was strictly hard times in Flint, Michigan, where all
the guys in the group, as well as manager Terry Knight, come from. Originally there had been a
group called the Jazz Masters, which had Don Brewer on drums; Curt Johnson (now Grand Funk's
equipment manager) had played lead; Bob Caldwell was on organ, and Herm Jackson played bass.
Farner, then 17, replaced Johnson, and soon Terry Knight, who had been a successful Top 40 disc jockey, joined them and renamed the band Terry Knight and the Pack. Those days had been rough
all right. No one stopped Mark on the street for his autograph in Flint, Mich., in the middle sixties.
Usually, instead, they made fun of his long hair. Flint is a gritty industrial town. One time a gang of
toughs went further than verbal abuse of his hair and Mark landed in the hospital with multiple
injuries. Yeah. life looked like a bummer many days during those dues-paying years. Oddly enough
Mark has a certain loyalty to Michigan. "It's, still home." he says, and he believes it ,so ,strongly that
he has bought a 110-acre farm there. It's far enough from Flint though. It's f'ar from all cities in fact.
Mark has enough of crowds when he's working. The town he lives in is ,so small that it's not even on
The map. He always goes there to relax when he has a vacation from the grind of playing, which
he loves but loves to get away from, too, every now and then.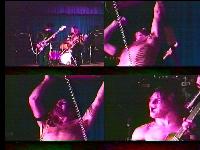 Farner certainly works for his freedom. In most people's minds he is the "star" of Grand Funk
Railroad and not without reason. He sings lead, plays lead guitar, write 90% of Grand Funk's
material, and provides the most energetic and devastating stage show in rock and roll.
With all this, he has the quiet humility that comes with absolute confidence. He does not
flaunt his wealth. In fact he still uses his same old guitar, held together now, after the beating
night, with masking and it takes almost everv Scotch tape. He dresses on only a slightly higher
level than his fans and is soft spoken, though articulate, offstage. On stage, however, he is both a
master showman and a great athlete. The story goes that he was a football player in highschool who
had to give it up because of water in the knee. It was because of this that he started putting
so much energy into the guitar. It indeed has paid off. He has unparalleled control of his instrument.
"On stage," he says, "I do whatever I feel like doing. The stage is my province." Some
nights he gets into such a frenzy, and so tangled up in wires, that he is in constant danger
of tripping and falling. But despite his jumping, running, going down on his knees, and other
theatrics, he never for a moment loses control of his guitar. "You just get used to it. The gui-
tar becomes a part of your body. "There's nothing to it."
Don Brewer, the wild drummer whose solos are a high point of Grand Funk's concerts, has
been called the 'businessman of the group," by manager Terry Knight. "He's the most settled,"
says Terry. Like the rest of Grand Funk, Don Brewer is ,sensitive to the early antagonism of
the press whose members at least a perceptive few are just now beginning to discover
what Grand Funk fans have known for months. "My basic theory is, I guess, that we came
about SNAP - like that." Don said in an interview with Martin Last. We started out with
the Atlanta thing and everything right from then on was before big audiences and like one
day Grand Funk wasn't there and like the next day it was. Basically we got our start in the
South before we started playing in the North and East and like maybe the quote unquote
critics felt that maybe we were being shoved down their throats. I think they felt we didn't
pay our dues and they were screaming 'hype. Like one time we did a concert in Toronto be-
fore a giant audience that was right there with us a really good reaction. And afterwards in the
hotel we were listening to this FM station and that guy, that critic pushed us to the lowest like he
couldn't have said anything worse about us. And to me that critic was telling those kids that they
were crazy, you know?" And that kind of thing naturally, really bugs him.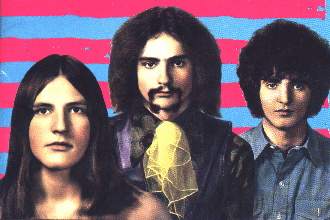 But, just as Grand Funk has its critics, so does it have its staunch supporters among the
press. One of the most loyal is the editor of the magazine you're now reading, Richard Robin-
son. Not long ago, addressing himself to some non-believers, Robinson had this to say :
"Last year one, and only one, rock and roll band ,sold a record every four seconds. That's
right, every four seconds. Yet that same group was ignored by rock critics, and most music
magazines, and some radio stations even refused to play the group's music on the air.
"Last year one, and only one, rock group made five million dollars in personal appearances.
And sold out Madison Square Garden in less than four hours! And this year that group
will make ten million dollars. And still no one seem s to be paying any attention to them . . .
except for all those fans who bought the records and went to the concerts.
"Which group? Grand Funk Railroad, ofcourse. A threeman rock group that started out in March
of 1969 and since then has a more impressive track record than even the Beatles had, or the Rolling
Stones, or any of those other groups of the mid-sixties ever had.
"The problem is that even though Grand Funk is among the finest bands in the land aIong with other
groups of the same caliber such as Bloodrock, Black Sabbath, and Mountain, even though Grand
Funk is so big, the rock establishment, to say nothing of the adult press, is completely ignoring them.
"It's almost as if they didn't exist," Robinson added, obviously perplexed. "What I want to know is . . .
how can radio people and rock music people and so called underground people say they're part of
what's happening and yet ignore the biggest thing that's happened in American music since the
Beatles did 'I Want To Hold Your Hand'?
"Of course I know the answer to that, the answer to why the group is being ignored.'. Robinson
went on. "The answer is that we've all gotten comfortable with a new music that is getting older
by the minute. We've all decided that rock and roll has gone through enough changes and that we
should now settle back and relax. "I say 'all of us' have decided that. What I mean is, all of us
except the young people who love the new bands like Grand Funk and Black Sabbath.
And I'd like to suggest that unless we want to wind up talking about the 'good old days.' like our
parents do about big bands, then we'd better re-open our minds and realize that once again
there's a new music happening across the land. A new music that hasn't got too much to do with
Sergant Pepper or Simon and Garfunkel or Crosby, Stills, Nash and Young." It's a safe bet that you,
as a Grand Funk advocate, go along with Robinson in these views!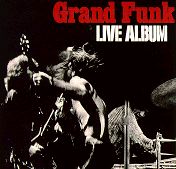 Now as the AM and FM guys would put it, back to Don Brewer. Don like Mark, is also 22. enjoys
Riding horses and motorcycles, and also has a cottage in Northern Michigan, but recently has been
looking at property in the Bahamas where Terry Knight makes his home. Don is particularly outspoken in his feelings about hard drugs. All three of the guys have, in fact, declared what amounts to an about private war against the use of hard drugs. Says Don : "We're completeIy", totally, against hard drugs for us –for anybody." He makes no pretense to being a latter-day Puritan, however because he does add: "'The only thing we can say is, if you can smoke it, man, go ahead and smoke it."
More about the subject of drugs from the other two in a moment. Meanwhile, Don comments on
another phenomenon of the present day, this one peculiar to the rock and roll world - groupies.
Of these girl,s Don comments : "There are some who are like a virgin forest or something. It's like the
first thing a chick will say is 'I'm not a groupie, I don't usually do this sort of thing.' And once
she's gained your confidence that she's not a groupie, then it's cool after that. So we just sort of play
that game." It isn't easy for groupies though. There are tight security precautions, the backstage area
is kept clear, and after the gig the guys go ,straight to the limousine and to the hotel, where they are
registered under false names.
Mel Schacher, the bass player, is the youngest and quietest member of the group. He just turned 20
and rarely says anything because, he insists, "I'm shy." Until recently he lived with his parents. Mel
is the most into motorcycling of the group. Mel who on stage ,stands almost still in contrast to Farner's contortions, was the missing link that brought Grand Funk together. Farner, Brewer and Knight all had been involved with each other before. Mel agrees with Brewer's assessment of drugs. He and the others have made ,several anti-hard drug radio commercials that are broadcast on stations across the country. "You can't keep to a show when you're stoned" he ,says. "With us it's that with all the exertion and everything you put into a performance you just can't concentrate on what you're doing.
Of course." he laughs, "you can jam your rear off but that's not the same as playing a show."
Mark backs h1im up in this. He told Martin Last, "We don't play stoned although we have in the
past a time or two. But it's hard because your concentration span isn't as great as when
you're ,straight. Like one time we were really ripped on ,some Colombian weed and all I did
was two hits and I was really zonked. I was ending songs and they were still playing on and
I thought, what's the matter with these guys?' "The three members of Grand Funk are very
much into each others' heads. "The guys are so much into each other," Knight says, "that they can
communicate without talking. Sometimes the shell is so thick that even I can't penetrate it.
Nobody else may know what they're talking about but then they come on stage and
really know what they're doing "Their magical musical sound comes from this communication.
They work out the songs together and think together on stage. Though the music seems loud and
chaotic to the uninitiated listener, their shows are well thought out and dramatically calculated.
"Everything is planned," says Knight. "lt all has to follow a pattern. It has to fall into place.
There haven't been any major mistakes with Grand Funk. I made a lot of mistakes early in my life
and I learned from them." One of their strongest assets has always been their loyalty to their audience.It pays off. They've always given the audience what it wants. Their shows are long and they never fail to do encores. Mark puts such incredible energy into each performance that he's been known to collapse after a show. When they released their Live double album they gave the audienee 80 minutes of music for only $5.98. Many times during concerts, Farner will adress the audience if it's relevant. He will tell those in front to sit down, or he'll warn the crowd about policemen. At the Randalls Island festival in New York last summer, Grand Funk went on even though the promoters couldn't pay them all of the money in the contract, while many supposedly revolutionary artists refused too play. They went on solely out of loyalty too their audience. Their albums always contain a lot of pictures and their whole attitude is one of great respect for their followers.

As a result, they have the tremendously fanatic fans that Sid Bernstein noted. Every aspect of their
career, shows an awareness of the young audience that so staunchly supports them.
Grand Funk is no accident, but a professional ,success, skillfully engineered. One aspect of Grand
Funk that is sometimes overlooked is their songs. Because of all the attention put on the loudness
and ecstasy of the music, people sometimes forget that one of the major elements that has made
Grand Funk so successful is Mark Farner's songs.
When Grand Funk first played the Fillmore East, their first album, On Time, had only been out for
three weeks yet the audience was screaming out their favorites from the LP, demanding their performance. So far they haven't had any big AM hits in the classic sense of the word, although
"Time Machine," from their first album, and "Closer To Home (I'm Your Captain)," from their
third, got a certain amount of radio play. So, too, did their versions of the Stones' "Gimme Shelter"
and Traffic s classic "Feelin' Alright." Other than that, and none of those were anything like giant
hits, Grand Funk's songs can be heard only on their albums and in performance.
Grand Funk's songs have generally fallen into three categories : sexual, cosmic and blues.
These three are, of course, all related, but they define three distinct moods and methods of
communication. The sexual message is best exemplified in "Time Machine." It begins, "Hey
there baby" do you want to make the scene? Ah, hey there baby, do you want to make the
scene? Well come on over baby, step into my Time Machine." Farner is singing from a classic
macho tradition of sex stars here. The words are not extraordinary but they have an original
hook and a dynamic feel. Many of Farner' s songs are along the same sexual lines. Grand Funk's
music is in truth filled with sexual suggestion and power. Farner's stage act is undeniably erotic
and the beat that Brewer and Schacher produce complements Mark's words and guitar. Sexual
expression, then, is naturally a large part of Grand Funk's statement-as, actually, it has been in
rock and roll ever since Elvis. When Mark Farner does something as simple as tell a Madison
Square Garden audience, "You're the best audience in the world," and the screaming is so
loud that the rafters shake with sound, that is Sex. When Farner sings he is, in effect, a voice
for all the members of the audience. He is a totally new breed of sex symbol. The old-style
idol represented what the audience could never achieve. Farner is an inspiration to his audience
- a symbol of the freedom that they can achieve. It's no secret that most of Grand Funk's audience
are adolescents, hence the sexual expression of the group's act is crucial to its success.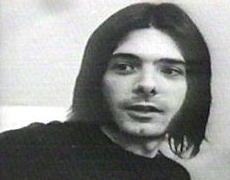 TERRY KNIGHT
Interestingly, Terry Knight was recently quoted on Grand Funk in (of all places!)
The Wall Street Journal and said with obvious managerial zest, "They rape an audience.
" When he said that he wasn't talking about just the sex element in their shows. What he meant
was the fantastic rapport the croup establishes with its audiences from the first minute on stage.
That huge warmth, that give-and-take, that immediate "thing" of friendship and love, is something
you can almost touch-as you must know if you've ever attended one of their concerts. This mutual
affection so quickly established, you might say the "rape" begins. Comes then the sound (not to
mention Mark Farner's dynamic accompanying performance) - and it is a sound so overpowering
that it dares an audience to do anything but surrender to it (and the young men who make it),
surrender completely. It builds to a climax like nothing else on this planet - and every audience,
every member of every audience, goes ecstatically wild. That, you will surely admit, is mass rape
of an audience. And it happens, without exception, every night of the year that they play before a
live crowd.
Of course the member of the group on whom most of this adulation devolves is Mark Farner.
But anyone is wrong who thinks that the supreme masculine sexual excitement that Farner creates
( to the accompaniment of such potent music) is all that draws an audience to Grand Funk.
The group has still more going for it. Grand Funk is, collectively, a hero of their generation in many
ways and Farner's capacity for relevant lyrics had been foolishly underestimated. Even on the first
Grand Funk album there was evidence of Farner's insight into the complex nature of life.
In "Into the Sun" Farner implies the vastness of the cosmos within the context of a love song.
Other songs express the agony of desertion and loneliness. In "Closer To Home (I'm Your Captain),"
Farner makes a classic cosmic statement that identifies him as a true visionary of the seventies.
He recognizes the tremendous change in consciousness that is occurring around the world, the
breakdown of the individual ego and of materialistic societies. He is, in short, relating to
the spiritual revolution that was communicated through the " acid-rock" of the late sixties.
This is what makes Farner such a major figure.
Like The Beatles he combines sexual, excitement with social relevance. He feels the tremendous
responsibility that he has to his audience and he uses his power to communicate with
them. It's true that Grand Funk has always exercised caution in their development and certainly do
nothing to jeopardize their popularity. But they also go an extra step in communication which shows
that they are more than mere moneymakers. And Farner, as their spokesman through his lyrics, is a
leader of youth. In "Sin's A Good Man's Brother" for instance, he sings, "Ain't seen a night when things work out right - go by. Things on my mind and I just don't have the time - and it don't seem right. Ain't seen a day that I don' t hear people say that they know they're gonna die.This may seem a little bit crazy – I don't think you should be so lazy. If you think you've heard this before stick around, I'm gonna tell you more.'What other popstar has ever told his audience that they're too lazy?
Grand Funk's success is related to the exquisite way that they tread the line between giving the audience exactly what it wants and then giving it something extra as well, something that perhaps it didn't ask for but unconsciously desires. This is why they've been able to have such giant success.
As other articles in this issue point out, Grand Funk is getting involved in videotape
and films, It seems likely that they have many surprises in store for us. Manager Terry Knight has
made it clear that he does, everything according to plan. For two years now people have been predicting Grand Funk's demise and questioning their relevance. It's reminiscent of early criticism of The Beatles, who continually managed to exceed people's expactations of them and thwart critics who kept predicting their end. Though Grand Funk has never had any directly political lvrics, they privatelv hold some very definite political feelings. Quite obviously they are against the war, and they've made it clear that they're committed to non-violence. The group is tremendously concerned about ecology as well.
Farner is a vegetarian and grows his own vegetables on his farm. The conflict of being a part of the problem as well as part of the solution is painful to Grand Funk. After all they own their own
Lear Jet which certainly, helps to pollute the atmosphere. Yet there's no other practicaI way for the
band to travel. Knight has said with complete sincerity. "I know that if the guys thought that by giving
up their career they could help to solve the pollution problem, they would throw it away with outasecond thought." Farner has already announced plans to buy trash cans for several cities and he is obviously thinking of other tangible things he can do that will have a positive effecton society. He is well aware of his role as a spokesman and leader of his generation. And of course they are constantly operating on the psychologcal level of change which is more revolutionary than specific slogans.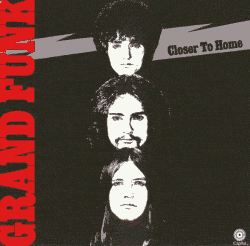 Witness the cryptic cover of their Closer To Home album where
their bloodshot eyes could be seen peering through black and white masks of their faces.
Equally revealing was the Knight-written quote which appeared on the album and on the
legendary Times Square billboard advertising the album: Three faces among the countless
who belong to the Hew Culture, setting forth on its final voyage through a dying world…
searching to find a way to bring us all closer to home. Ofcourse when it comes down to it, most of what Grand Funk does is aimed helping peopIe have a good time, and that's where their immediate meaning and satisfaction comes in.
Grand Funk is simply a faithful incarnation of rock and roll that's gone before them. They in-
clude dancemusic, message music, loud music, gentle music (listen to "Mean Mistreater" on
the Live album; you could hear a pin drop when they play it before an audience of many
thousands), and, mainly, mind-blowing rock music. It is a music that engulfs the audience,
filled with rhythm that reaches the depths of people's souls. This Michigan-born trio has found
the sounds to express the modern world in a way that no one else has been able to do. And
they do it so subtly that outsiders literally cannot tell the difference between Grand Funk and a
dozen unsuccessful imitators.Thus they are the property of youth, a group that understands
them, a possession that their parents can neither understand nortake away. Olderbrothers
may scoff at the music, just as parents scoffed at The Beatles butt the young 55,000 who went
to Shea Stadium were no fools or followers. They were fans of a group who spoke to them
as no one else ever had.
Before they are finished, Grand Funk almost assuredly will be the most successful
rock and roll group in musical history. And their statement is so depth at it cannot be put
into words. "We are loud," says Farner. "We are very loud, but then it is our intention to create
an atmosphere in which there is nothing but the music - so it becomes almost physical and
you'vegot to groove along with it because it is all that exists. We're taking the kids out, away
from their parents, their environments, where theonly reality is the beat and rhythms."
Says Terry Knight, explaining group's popularity with young audiences and how it brings
them a sense of release and freedom: "It allows them to forget for90 minutes that their brothers
are being killed in Vietnam, that their fathers are alcoholics, or that their mothers are junkies."
As for Grand Funk's message, Knight says this: "Their message to all the people is 'Look
At me - l'm free!' When Mark holds up his guitar it's a symbol. That gesture says, They tell
me I can't play this but you see it? I'm here man, because of this!"
PLANET Magazine October 1971